I've enjoyed teaching BSL (British Sign Language) guitar lessons at Heathlands School, St Albans for over half a year now and it has been very rewarding and creative work. Therefore I thought it would be a good time to reflect on what I've learnt so far and share resources that I hope will be useful for aspiring Deaf musicians.
Although many Deaf people have some degree of hearing and can enjoy music through sound, I was keen from the start to make lessons highly visual. This would hopefully give students the fullest experience possible.
As a hearing person and BSL student, I have sometimes had to discover the best teaching approaches through trial and error.
Fortunately my students are very enthusiastic and vocal about what excites them most! Their feedback has been invaluable in giving me a clear idea of which approaches work best.
Finally, I'm sure that the list below is also very relevant to hearing students! I have definitely enjoyed using these resources in my spare time as well.
1. Sound/Music Visualisers
From the start I was keen to find software that would translate sound into exciting and meaningful visuals. I imagined fiery red patterns accompanying Rock power chords and beautiful serene colours moving with the sound of pretty fingerstyle guitar.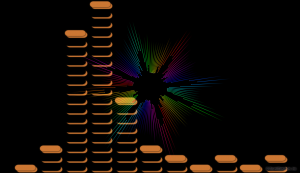 It was a little trickier finding something as perfect in reality, but one App I do recommend is Whitecap Platinum. This software uses your computer's microphone to translate sound into very expressive and varied visuals. Shapes move with both the volume and pitch of the guitar and there are plenty of shapes to choose from. I would still like to see a clearer representation of pitch in a music visualiser, but Whitecap definitely seems like one of the best for the moment.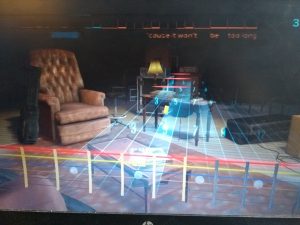 2. Rocksmith
Rocksmith was a revelation for my students! For those who have played the video game 'Guitar Hero', this software is very similar but is controlled with a real guitar. Students choose a song and then musical notes slide towards the screen and must be picked on the guitar at the right time.
Each string is shown with a distinct colour and the words for each song scroll past at the top of the screen. This means students can both 'see' their playing and sing along at the same time! This software has been a huge hit with my students and can be purchased for either PC or PS4 (make sure to buy the accompanying Real Tone Cable – required for playing the game).
3. Sign Song
This will already be familiar to many Deaf and hearing people and there are some fantastic examples of Sign Song already on Youtube. I found it most useful for the student to play guitar chords in time with my signing. This is an enjoyable way to play together at the same time and a good method for training a strong sense of rhythm.
4. Coloured strings with matching coloured TAB
This one is perhaps more useful for me as a teacher! I caused some confusion to begin with in lessons because I pointed at which guitar string should be played. Sometimes students misunderstood and thought I was referring to a fret rather than a string, or that I was asking them to perform a new technique. Whilst this may have something to do with my limitations in sign language (I'm still learning!), multi-coloured strings have been very useful for making things clearer; particularly with younger students.
It is quick and easy to refer to the 'red string' or the 'yellow string' and they look great too! The strings I use have the same colours as those used in the Rocksmith software and can be purchased here. I have also designed my own TAB paper with the same colours used (click below for an example)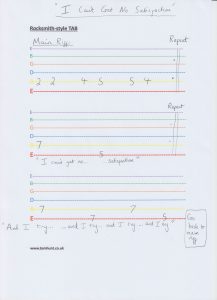 5.Learn music that feels good (literally!)
An electric guitar may have a big sound, but a lot of the physical work happens on a small scale. Flashy guitar solos sound huge but are often played with tiny strokes of a plectrum. However, even subtle guitar techniques can have a very strong and satisfying feel to them.
For example 'strumming', in which the right hand rapidly brushes a plectrum across the strings, or 'vibrato', in which a string is bended up and down repeatedly, are both very expressive sensations. For beginning students strumming simple chord progressions is a nice way to use big and exciting movements – particularly if they are interested in Rock music. Strumming through a powerful Rock guitar riff is one of the great pleasures of electric guitar. See below for a few of my lesson handouts that are especially tactile!