For me, producing music is a passion that goes hand in hand with my love of composition. I love the thrill of taking a song from a simple idea to a fully realised and mastered recording.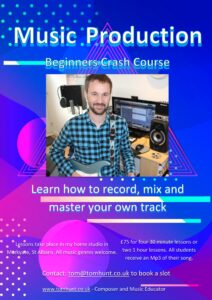 After further developing my music production skills at university, I composed and produced music for TV, film and radio. Examples include music for Cannes Film Festival, TV5Monde, BBC Devon, award-winning filmmakers 4bi9 Media and various production companies including ROBA and Tree of Arts.
I have taught music production for several years both in schools and privately. My approach is flexible and I'm happy to provide either grade based tuition, using Rockschool's Music Production syllabus, or non-grade tuition for those who would like to learn for the sheer love of it! My DAW (Digital Audio Workstation) of choice is Cubase, but I am able to teach using other types of software such as Garageband and Logic as well.
Lessons usually take place in my home studio in St Albans although Zoom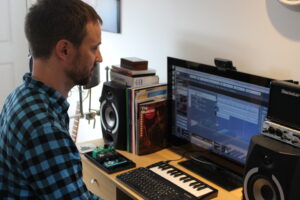 sessions are available too. The latter makes use of features such as 'Screen Share' and the sharing of audio, to give students the fullest experience possible. Prices are: £35 per hour (paid upfront for 4 lessons: £140). Please email tom@tomhunt.co.uk for more information or to discuss further.
"As a long time guitar student I was very keen to record and experiment with small pieces and riffs I had come up with.
In just a few lessons Tom was able to take me through the basics of using music editing software (or DAW), applying effective drum beats and guitar effects for my songs and even applying advanced techniques such as audio panning and equalising.
I have now recorded three of my own songs at home and am looking forward to doing more recording and lessons with Tom to improve my capability." – Steve Allen, student

"Tom is a wonderful teacher, calm and patient. He built up a rapport with my son (age 16) quickly, and my son looks forward to the lesson every week. Tom teaches him guitar and Music Production. Sometimes the lesson is via zoom, sometimes in Tom's studio; both work just as well for us. I would thoroughly recommend Tom!" – Livia Vass, mother of student
I have a current enhanced DBS certificate and a level 3 PTLLS certificate.